Global Network
Our global network is as follows.
We have 26 factories, 2 R&D and 2 R in 20 different locations. (In addition, Slovakia factory will start to run from June, 2019.) We operate in 11 countries in Asia, Europe and North & South America which gives us the ability to respond effectively to requests from our clients.
This strength has the added bonus of boosting local production and the localisation of development.
It is our intension to meet requests from our clients both globally and locally.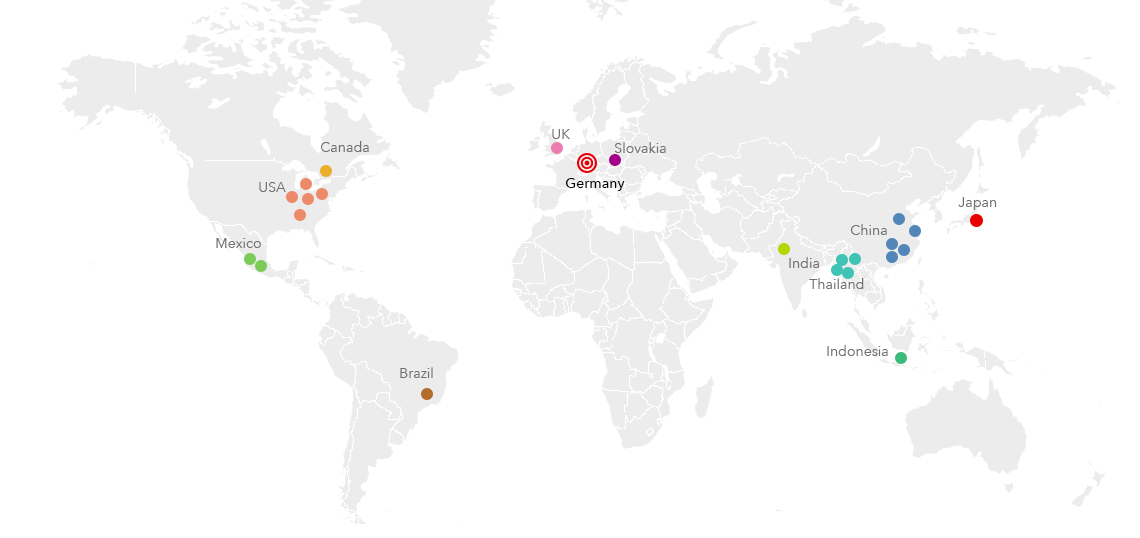 Germany
G-TEKT Deutschalnd GmbH
Walter-Gropius-Strasse 23, 80807 Munich, Germany
United Kingdom
G-TEKT Europe Manufacturing Ltd.(G-TEM)
Plot 6000 Gloucester Business Park, Golf Club Lane, Brockworth, Gloucester GL3 4AJ U.K.
G-TEKT Europe Manufacturing Ltd.(G-TEM2)
Unit 17,Rassau Industrial Estate Ebbw Vale, Blaenau Gwent NP23 5SD U.K.
G-TEKT Europe Manufacturing Ltd.(G-TEM3)
Slovakia
G-TEKT Slovakia, s.r.o.(G-TES)
Nitra, Slovakia (Scheduled to start operation in June 2019)
USA
Jefferson Industries Corporation(JIC)
6670 State Route 29 N.E. West Jefferson, Ohio 43162 U.S.A.
Jefferson Southern Corporation(JSC)
1000 Marquette Road Rockmart, Georgia 30153 U.S.A.
Austin Tri-Hawk Automotive, Inc.(ATA)
2001 West Just Industrial Parkway Austin, Indiana 47102 U.S.A.
G-TEKT America Corporation(G-TAC)
7075 Commerce Blvd. Canton, Michigan 48187 U.S.A.
G-TEKT North America Corporation(G-NAC)
325 Cramer Creek Court Dublin, Ohio 43017
Canada
Jefferson Elora Corporation(JEC)
60 First Line Road Elora, Ontario N0B 1S0 CANADA
Mexico
G-ONE AUTO PARTS DE MEXICO, S.A. DE C.V.(G-ONE)
AVENIDA AMISTAD 104 ZONA INDUSTRIAL APASEO EL GRANDE, GUANAJUATO MEXICO C.P. 38160
G-TEKT MEXICO CORP. S.A. DE C.V.(G-MEX)
AVENIDA RIO OTA 287 PARQUE INDUSTRIAL CASTRO DEL RIO IRAPUATO, GUANAJUATO C.P 36810
Brazil
G-KT do Brasil Ltda.(G-KTB)
Rodovida Dom Gabriel, Paulino Bueno Couto, KM 84,5 - Bairro do Pinhal - CEP 13315-000 Cabreuva - SP - Inscricao Estadual, BRASIL
China
Auto Parts Alliance (China) Ltd.(APAC)
172, Junye Rd., Eastern Section,Guangzhou Economic & Technical Development District Guangzhou, 510530 CHINA
Auto Parts Alliance (China) Ltd.(APAC 2)
62, Hefeng Rd., Yonghe Economic & Technical Development District Guangzhou, 511356 CHINA
Wuhan Auto Parts Alliance Co.,Ltd.(WAPAC)
No.12 Jinyintan Economic Development Zone Wuhan, 430023 CHINA
Conghua K&S Auto Parts Co.,Ltd.(CKS)
NO.7.south Industrial Road, Pearl Industrial Zone, Conghua,Guangzhou,Guangdong,510931 CHINA
G-TEKT Shanghai Representative Office (GSR)
20-21 Room 22nd Floor, No.1193 Changning Road Changning District, Shanghai, 200051 CHINA
India
G-TEKT India Private Ltd.(G-TIP)
SPL 2(A),TAPUKARA INDUSTRIAL AREA, KHUSHKHERA BHIWADI, DISTT-ALWAR,RAJASTHAN. 301707 INDIA
Thailand
G-TEKT (Thailand) Co.,Ltd.
104 Moo 1 Hi-Tech Industrial Estate Tambol Banwha Bangpa-In, Ayutthaya 13160 THAILAND
G-TEKT Eastern Co.,Ltd.
58/1 Moo 4 Eastern Seaboard Industrial Estate Tambol Pluakdaeng Amphur Pluakdaeng, Rayong 21140 THAILAND
G-TEKT Eastern Co., Ltd.(G-TEC2)
Thai G&B Manufacturing Ltd.
58/1 Moo 4 Eastern Seaboard Industrial Estate Tambol Pluakdaeng Amphur Pluakdaeng, Rayong 21140 THAILAND
Indonesia
PT.G-TEKT Indonesia Manufacturing(G-TIM)
Kawasan Industri Indotaisei Sektor 1A Blok N,Desa Kalihurip Kec,Cikampek-Kab,Karawang
Japan
Headquarters operations
Omiya JP Building 18F 1-11-20, Sakuragi-cho, Omiya-ku, Saitama-city, Saitama-Pref. 330-0854 Japan
Saitama Plant
2909-7 Shirakusadai, Fukaya-shi, Saitama 369-1106 Japan
Hamura Plant
4-8-1 Shinmeidai, Hamura-shi, Tokyo 205-0023 Japan
Hamura Office
4-8-41 Shinmeidai, Hamura-shi, Tokyo 205-0023 Japan
Tochigi Plant
4814 Suganosawa, Washijuku, Sakura-shi, Tochigi 329-1411 Japan
C&C Tochigi
2021-13 Houshakuji, Takanezawa-machi, Shioya-gun, Tochigi 329-1233 Japan
Gunma Plant
470-9 Kamitajima-cho, Ota-shi, Gunma 373-0044 Japan
Shiga Plant
41 Otsu, Minamitsuchiyama, Tsuchiyama-cho, Koka-shi, Shiga 528-0212 Japan